The Blue Market Bermondsey Regeneration
Many of our local Bermondsey and SE16 / SE1 residents have probably noticed that the area around the "Blue" in Southwark Park Road has been fenced off recently.
Following a community campaign, a £2M regeneration plan was approved at the end of last year and works have now started.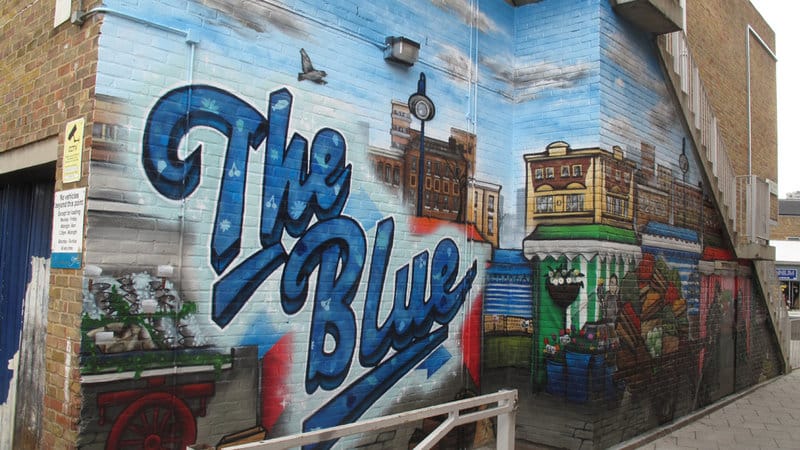 Last week we interviewed enthusiast local trader Russell of the Blue Bermondsey BID.
Full Video Interview at the bottom of this page.
"About 10 years ago, myself and a small group of dedicated traders decided to start a business group. From then we've gone from strength to strength. In short our efforts led us to get a conspicuous amount of funding from the Mayor of London".
What is going to happen?
The funding will be used to build new permanent market stalls, and a new clock tower to honour the original one in the nearby Biscuit Factory. "We want to move forward and live in the future, but we don't need to forget about our heritage – it is very important. Especially this part of Bermondsey was very well known for its factories and its industries and we want to respect that and give a nod to the past" Russell added.
Many of the existing shop fronts will be improved, along with the addition to new plants and green areas.
Rest assured that while works are proceeding you can still access your favourite stalls and local shops. Popular Russell's fish stall, Bell & Sons Butchers and Bread a Manger are still operating as usual, and during the weekend you better show up early in the morning if you want to avoid long queues to be served.
More and more residents are indeed shopping at the Blue and surrounding area – an area that has been changing dramatically in the last decade.
While some local residents have voiced concern with the change, for many it is great to see that Southwark Park Road and The Blue are changing their shape and welcoming new independent local businesses while retaining the existing ones.
A new arts and culture centre is being built and you can take part of the survey to give your input. Please say what you would like to see in the Blue's new multi-arts and cultural space in Bermondsey by visiting https://www.bluebermondsey.co.uk/survey-new-multi-arts-and-cultural-space-in-the-former-thorowgoods-store/.
If you are one of those that love this wonderful and vibrant location and are thinking of moving to the area, please get in touch where Alex & Matteo team will be more than happy to assist.
We have a great opportunity for first time buyers as well as investors just around the corner, in Woolsteplers Way. Have a look at the details  by clicking here.
If you own a property in the area and are thinking of moving or simply interested to know what your property value would be please book your FREE PROPERTY VALUATION!
"See you down the Blue!"
Alex & Matteo