Winners of 2021 British Property Award & 2021-22 EA Masters Gold Award
Alex and Matteo on Commitment to Service and Results
Alex and Matteo on Commitment to Service and Results
A good partnership is one in which each partner holds the other accountable for being better today than yesterday – to be better this week than we were last. Our partnership was founded on a mutual idea. The idea – a commitment to providing outstanding service would naturally lead to positive results in personal and business growth.
We set out to build a successful business in Rotherhithe, Canada Water and Bermondsey SE1 / SE16 by exceeding the expectations of our clients and ourselves. The result, being honored with a spot in the top 5% of all British agents. We aren't writing for a pat on the back (although we admit we did a little of that). On the contrary, we want to write a little about the awards and their meaning to us.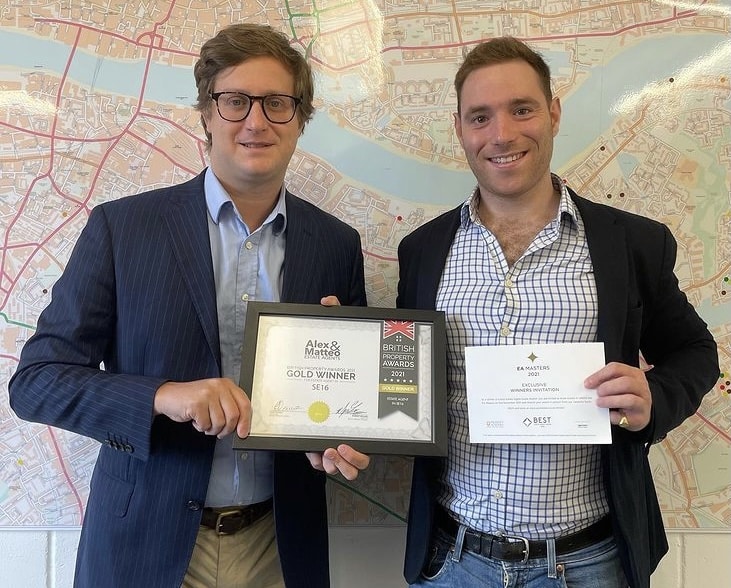 2021-22 EA Masters Gold Award
If you are not familiar, every year Property Academy assesses over 25,000 agents on marketing, service, and results. They look for the "best of the best" for their highly sought-after EA Masters Award. This award is the equivalent of the Olympic Gold Medal or the Oscar in film. According to Property Academy, only about five percent of agents ever reach this status. In other words, in the British real estate industry – it's a pretty big deal.
2021 British Property Award
At the same time, we were recognized as gold winner estate agents for SE16 for 2021. This award judges approximately 90% of the British agents on customer service through mystery shoppers. Our services were compared to our competition at the local, regional, and national levels.
Of course, the honors come with bragging rights, and brag we shall. However, we wanted to take a moment to thank our clients, community, supporters, and families. For without them allowing us to serve, we wouldn't be where we are. It is our client's trust in us, our community's endorsement, our supporter's faith, and our family's patience and love that allow us to continue to grow and do better. And this award allows us to recognize their support. With a renewed energy, we wanted to share our continued commitment to service.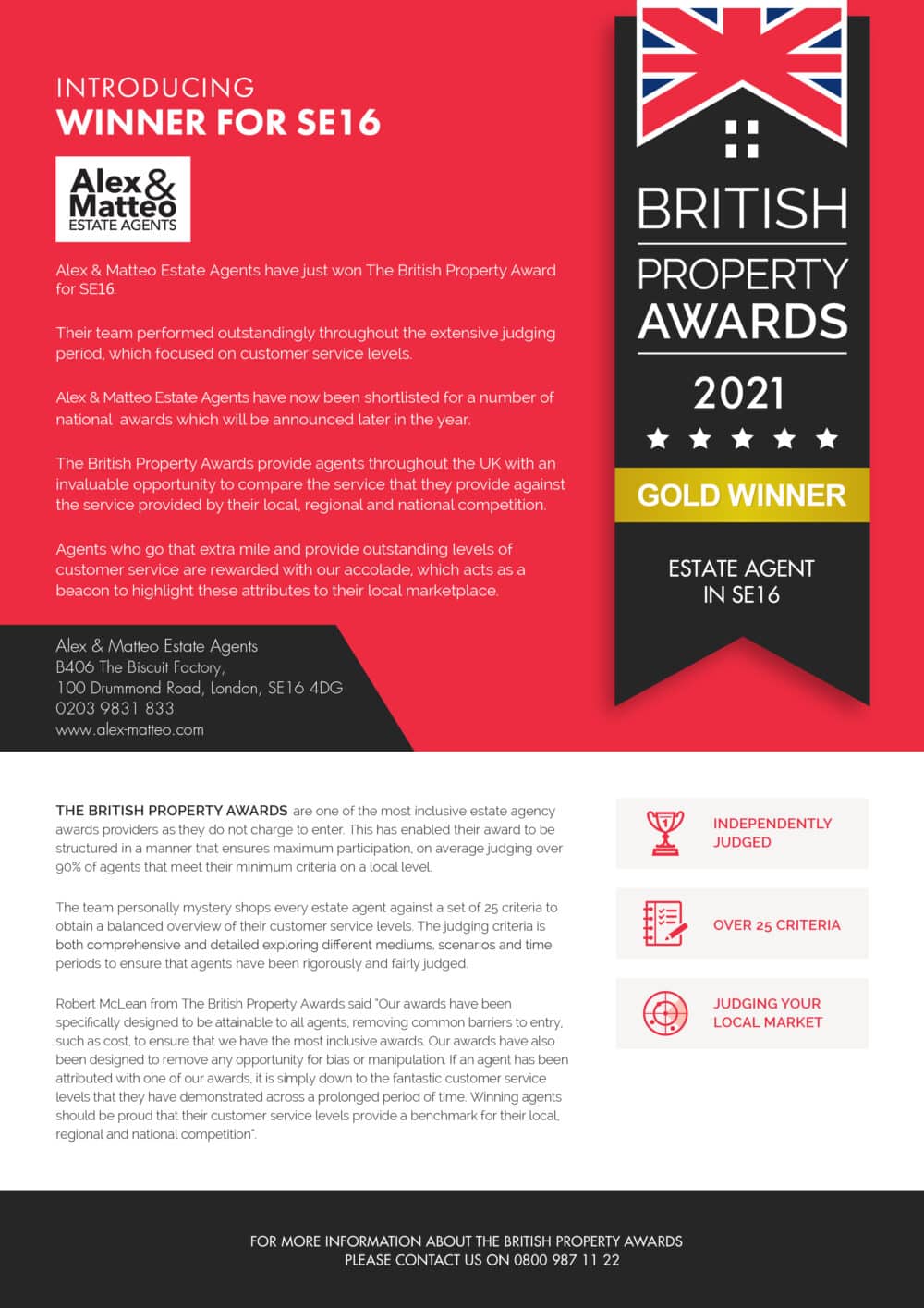 Our Commitment to Service
Rabindranath Tagore said,
"I slept and dreamt that life was joy. I awoke and saw that life was service. I acted and behold, service was joy" …
Truth in words. Our commitment is to serve first. We wholeheartedly believe that results will follow. We continue to commit to the service of our local se1 & Se16 community. We commit to being the most knowledgeable and professional agents in the areas around Canada Water, Surrey Quays, Rothehrithe and Bermondsey. We are committed to continuing a business where our service exceeds our client's expectations – because we know and understand that service is joy.
We love what we do and are humbled and honored to have the opportunity to wake up and do what we love. There is no greater joy than being recognized for our hard work and commitment to service. We are never too busy to talk about Bermondsey properties or real estate in general! So, if you see us stop and say hello! If you have a real estate question, give us a ring, send us an email, or text. We are always happy to help!
Truly,
Alex and Matteo